BIOVINO PROJECT
ACTIVITIES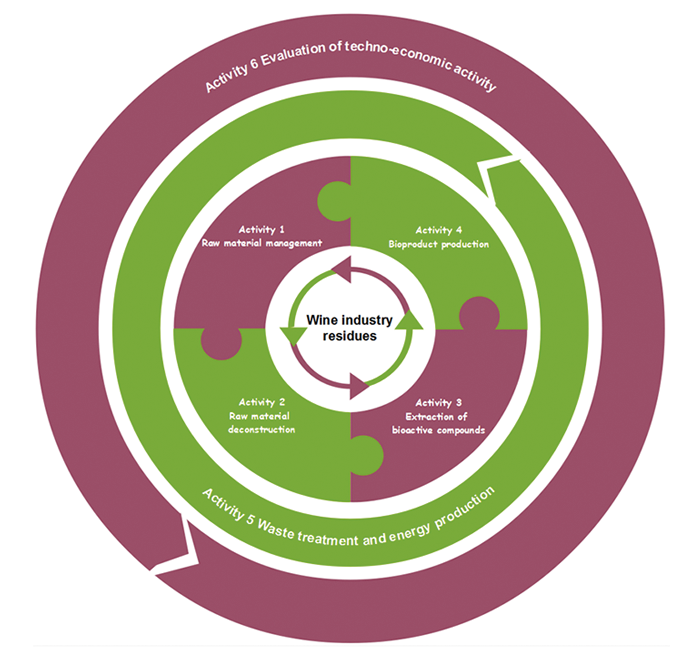 1
To characterize the location, type and quantity of the different by-products and other residues produced in the wine producing regions of Galicia and Castilla y León (Spain) as well as in the Central and Northern regions of Portugal. The obtained data will facilitate the selection of the best alternatives to supply and manage the feedstock required to feed the future multiproduct biorefinery.
2
To develop and implement methods and green technologies such as ionic liquids and deep eutectic solvents to deconstruct the lignocellulosic biomass and release effluents rich in macro and micronutrients that are susceptible to being evaluated.
3
Extraction and purification of bioactive compounds.
4
To establish eco-sustainable methods for the fermentation of released carbohydrates that allow the production of high-added value products, such as organic acids, bioalcohols, bioplastics and polyols.
5
Implementation of innovative biological methods, such as bioelectrochemical systems or the anaerobic digestion, in order to treat the liquid and solid residues obtained in the biorefinery for power production.
6
Development of a market survey for those biocompounds obtained during the project. To evaluate the ecological footprint of the planned biorefinery and to determine its technoeconomic viability.