CELL IMMOBILISATION: ERYTHRITOL PRODUCTION FROM SURPLUS GRAPE MUST
Nowadays, commercial erythritol synthesis is performed by free-cell fermentation with fungi in liquid media containing high concentrations of pure carbon sources. Alternative fermentation techniques, such as cell immobilisation, could imply an economic and energetic improvement for erythritol-producing factories, because the need for continuous preparation of fungal inocula before each fermentation batch would be eliminated.
Within the framework of the project BIOVINO, the research group of ITACyL has described for the first time the feasibility of cell immobilisation for erythritol production.
Cells of the fungus Moniliella pollinis were successfully immobilised on a cotton cloth placed inside a 2-L bioreactor, where they were fed with red grape must supplemented with yeast extract.

The immobilised micoorganisms produced 47.03 ± 6.16 g/L erythritol in 96 h (yield 0.18 ± 0.04 g/g), over four consecutive fermentation batches. The immobilised cells remained stable and operative during a 456-h period. The erythritol concentration attained was similar to the reference value obtained with free cells (41.88 ± 5.18 g/L erythritol) under the same fermentation conditions. The comparable results observed for free and immobilised cells evidenced the efficiency of the immobilisation system.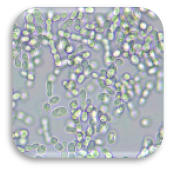 Therefore, the proposed method for erythritol bioproduction enables a cost reduction in reagents and energy.
Link to journal article (open access): https://doi.org/10.3390/jof8121286.
*-*-*-*-*-*-*-