PROJECT BIOVINO HAS SUCCEEDED IN PRODUCING ERYTHRITOL FROM WINERY SURPLUS
What is erythritol?
Erythritol is a four-carbon polyol which is widely present in nature and can be found in seaweeds, fungi, fruits and fermented foods.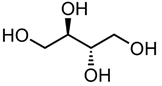 Erythritol is industrially produced by microorganisms, using glucose, fructose, sucrose or glycerol as carbon sources. These carbon sources are converted into erythritol by certain fungal strains of the genera Moniliella, Pseudozyma, Candida or Yarrowia.
What is erythritol used for?
Erythritol is used in many food formulations as a voluminiser, texturiser and stabiliser. Its taste is similar to sucrose, and it is employed as a sucrose substitute. Its low insulin index (suitable for diabetics) and its rapid absorption and excretion rates by the human organism imply that erythritol has a low caloric intake (0,2 cal/g). In addition, erythritol has been proposed as a platform chemical for the synthesis of other compounds (butadiene, butanediol or tetrahydrofuran).
The problem of wine surplus
Wine production worldwide attained 29,200 ML in 2018 according to the International Organisation of Vine and Wine (OIV). Spain devoted 938,391 ha to vineyard in 2019, which makes it rank first in the world in land area planted with this crop and third as wine producer worldwide in 2018. During the campaign 2019, about 3,400 ML wine were produced in Spain, whereas approximately 604 ML grape juice and must were manufactured (Spanish Ministry of Agriculture, Fisheries and Food). The European Union has tried to avoid wine surplus through legal regulations (Council Regulation (EC) No 1493/1999; Council Regulation (EC) No 479/2008), because it causes an important commercial imbalance. This surplus is mainly managed by controlled distillation, and storage for table wine and grape juice. Recently, the Spanish government has approved financial aid for wine distillation, private storage and green harvesting in order to alleviate the economic shock of the covid-19 pandemic in the winery sector (Spanish Royal Decree 557/2020).
The use of grape musts for erythritol biosynthesis could represent a business opportunity under these circumstances.
Production of erythritol from grape must
When sugars are employed as raw materials for erythritol production, generally expensive glucose-rich or starch-rich feedstocks are used. However, the utilization of sugary wastes or by-products from food industries could significantly reduce the economic costs of the process. Low-quality grape must and surplus grape must could be an interesting feedstock for erythritol biosynthesis, as mentioned above. Sugar concentrations in grape musts are in the range of 180-220 g/L, with glucose:fructose ratios about 1:1.
The project Biovino assessed the suitability of erythritol production at laboratory scale from two types of grape must: red must (variety Garnacha) and rosé must (variety Prieto Picudo). Erythritol was successfully obtained with the fungus Moniliella pollinis, attaining erythritol concentrations of 96 g/L for red grape must and 93 g/L for rosé grape must, with nearly total glucose and fructose consumption in 6 days.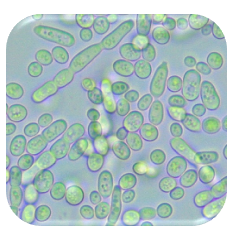 Conclusions
Erythritol concentrations obtained from both grape musts within the project Biovino are comparable to values available in the scientific literature for fermentations of pure glucose, and are even greater than values attained from other agri-food by-products. Accordingly, surplus grape must could be an appropriate feedstock for erythritol production, which would allow wine cooperatives and cellars to broaden their market niche. Nevertheless, before the implementation of biorefineries applying this process, it is still necessary to improve the operational method in order to reach the industrial scale.
More information
Link to the scientific paper: https://doi.org/10.1016/j.fbp.2021.02.001
Link to open-aceess repository (pre-print): https://doi.org/10.5281/zenodo.4423233