WASTES OR RESOURCES? INVENTORY OF WINERY BIOMASSES IN GALICIA (SPAIN).
What are the main wastes of winery activities?
Agricultural and winery tasks generate different wastes or by-products that are not always reused or valorised. The main wastes are listed below:
Vine shoots: Woody wastes coming from vine pruning. It is calculated that vine shoot generation ranges between 1.70 t/ha for vineyards with cup-shape conduction and 3.05 t/ha for vineyards with espalier conduction.
Grape pomace or grape marc: This is the solid waste from grape pressing. It constitutes 20% of the weight of the grape processed for vinification. Grape pomace contains about 50% grape skins and 25% grape seeds in weight.
Grape stalks: They are the woody part of the bunch of grapes and they are obtained during destemming works (separation of grapes from the bunch). They represent about 4% of the weight of processed grape.
Wine lees: They are a liquid and viscous waste composed of water and materials decanted during wine fermentation. Tienen una cantidad importante de levaduras agotadas. They contain an important amount of exhausted yeasts and their weight is equivalent to 1.5% of processed grape.
Inventory of winery wastes
The estimation of winery by-products (vine shoots, grape pomace, grape stalks and wine lees) generated in Galicia during the campaign 2018 was performed with the data supplied by the Winery Information System INFOVI (MAPA, Spain), related to vineyard registered areas, grape type and vine conduction used in the vineyard.
Geographical analysis
In Galicia there were 24,627 ha of vineyard registered in the campaign 2018. Table 1 shows the estimations of winery wastes generated in each province based on grape production.
Table 1. Estimated generation of winery wastes in the provinces of Galicia in the 2018 season based on the data of grape production.
| | | | | | |
| --- | --- | --- | --- | --- | --- |
| Province | Grape production (t) | Vine shoots (t) | Grape pomace (t) | Grape stalks (t) | Wine lees (t) |
| A Coruña | 7,502 | 4,068 | 900 | 300 | 0.20 |
| Lugo | 7,276 | 3,264 | 873 | 291 | 0.21 |
| Ourense | 30,752 | 13,991 | 3,690 | 1,230 | 0.85 |
| Pontevedra | 91,644 | 20,543 | 10,997 | 3,666 | 1.79 |
| Total | 137,174 | 41,866 | 16,461 | 5,487 | 3.05 |
In Galicia there are five designations of origin for wine: Monterrei, Rías Baixas, Ribeiro, Ribeira Sacra and Valdeorras. Several maps were developed, at district level, showing the main areas of Galicia where winery activities are located and, therefore, thus showing by-product generation in this sector.
Vine shoots
Global vine shoot production was estimated to be 41,866 tons. The five districts with the highest vine shoot generation – O Salnés, Vigo, O Baixo Miño (DO Rías Baixas), Valdeorras (DO Valdeorras) and Verín (DO Monterrei) – concentrate 45% of regional production, with 18,890 t, as shown in Figure 1.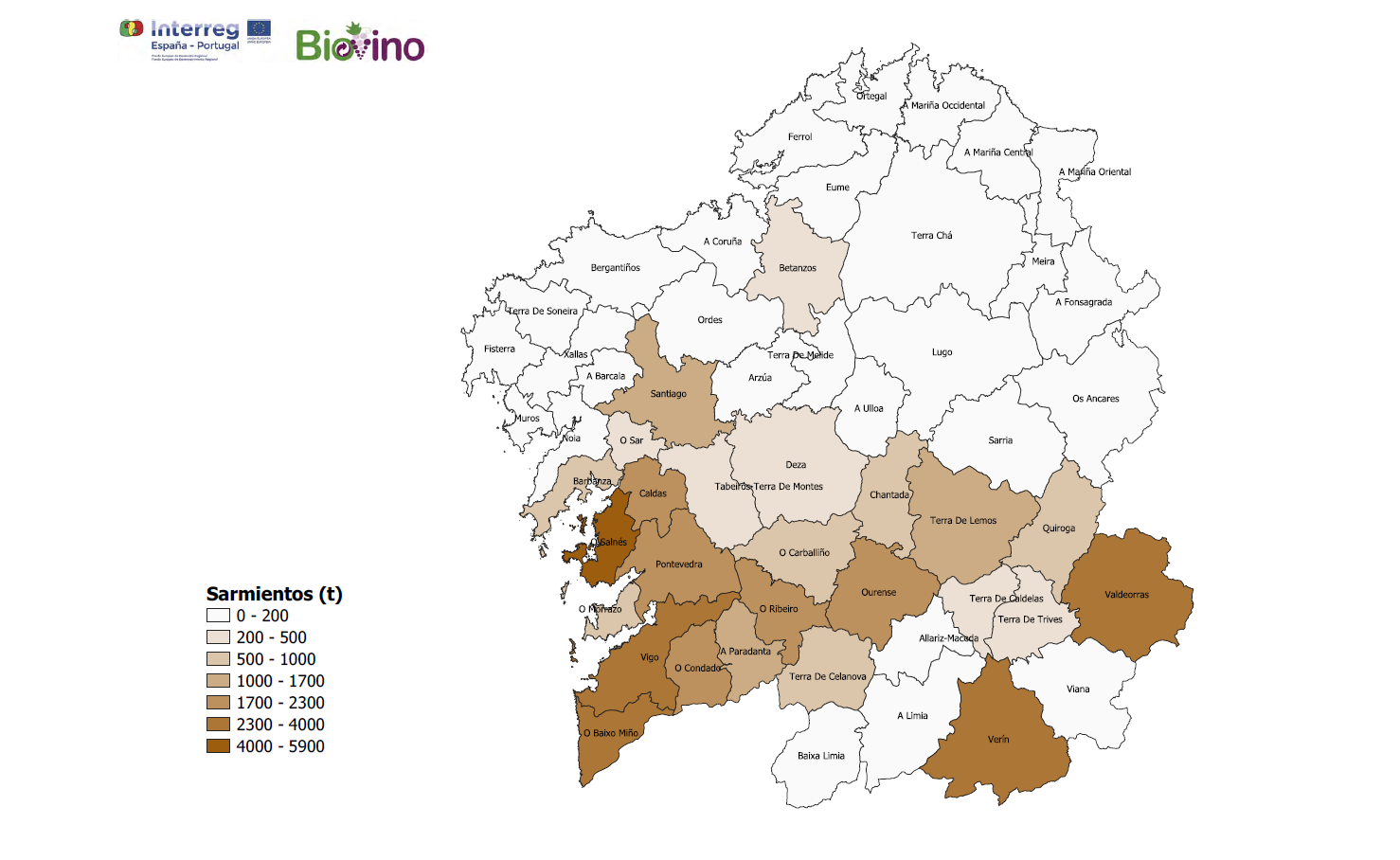 Grape pomace
A production of 16,461 t grape pomace was estimated in Galicia, from which 10,975 t grape skins and 5,486 t grape seeds could be recovered. The designations of origin DO Rías Baixas (with 7,380 t grape pomace) and DO Valdeorras (with 1,056 t grape pomace), concentrate 51% of regional production (Figure 2).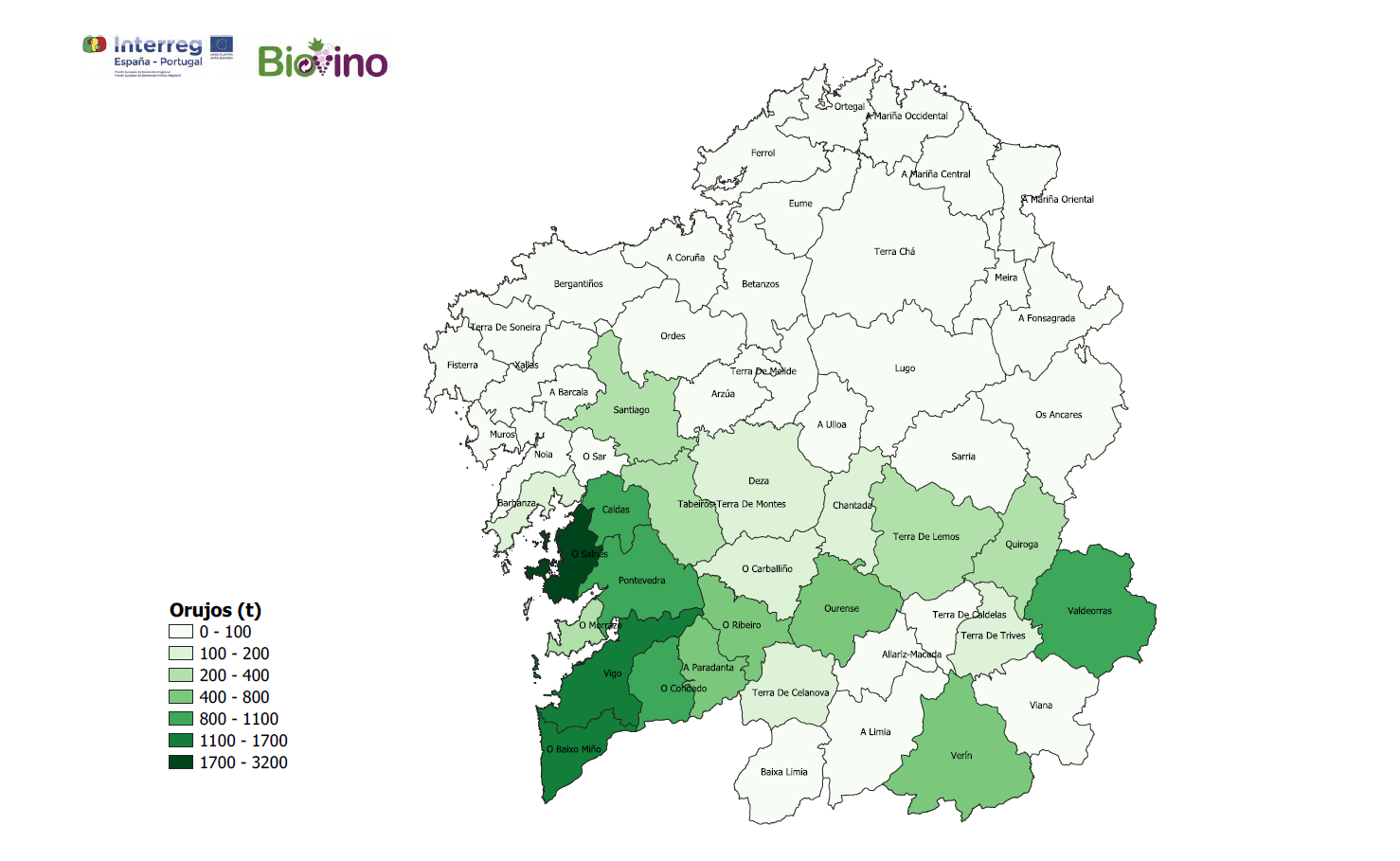 Grape stalk
Grape stalk is the by-product which ranks third in terms volumen generated by winery industry in Galicia, although it is barely valorised. Similarly to grape pomace, the designations of origin DO Rías Baixas and DO Valdeorras concentrate 51% of all the grape stalk generated by wine activities (Figure 3).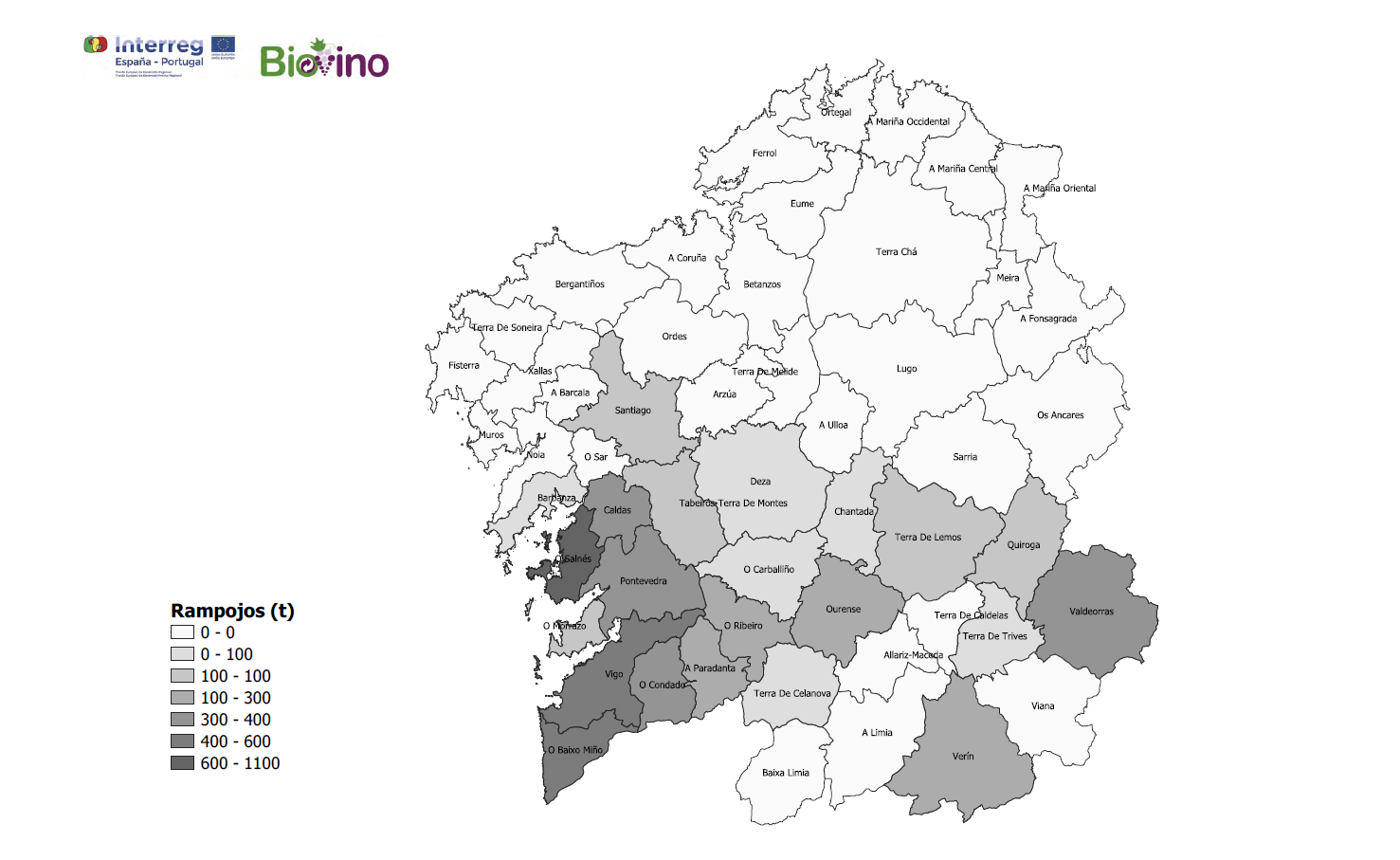 Wine lees
According to what was observed for the other winery by-products, the amount of wine lees generated is directly related to the amount of grapes produced. Therefore, the districts of O Salnés, Vigo, O Baixo Miño (DO Rías Baixas), Valdeorras (DO Valdeorras) and Verín (DO Monterrei) stand out again, as shown in Figure 4. The provinces of Pontevedra and Ourense concentrate 87% of the wine lees produced in the region.
Although wine lees are the winery by-product generated in the smallest quantity, their complex chemical composition (with inorganic salts, organic acids, phenolic compounds, cellulose, hemicellulose, lignin and microbial cells) makes them and interesting source of biocompounds.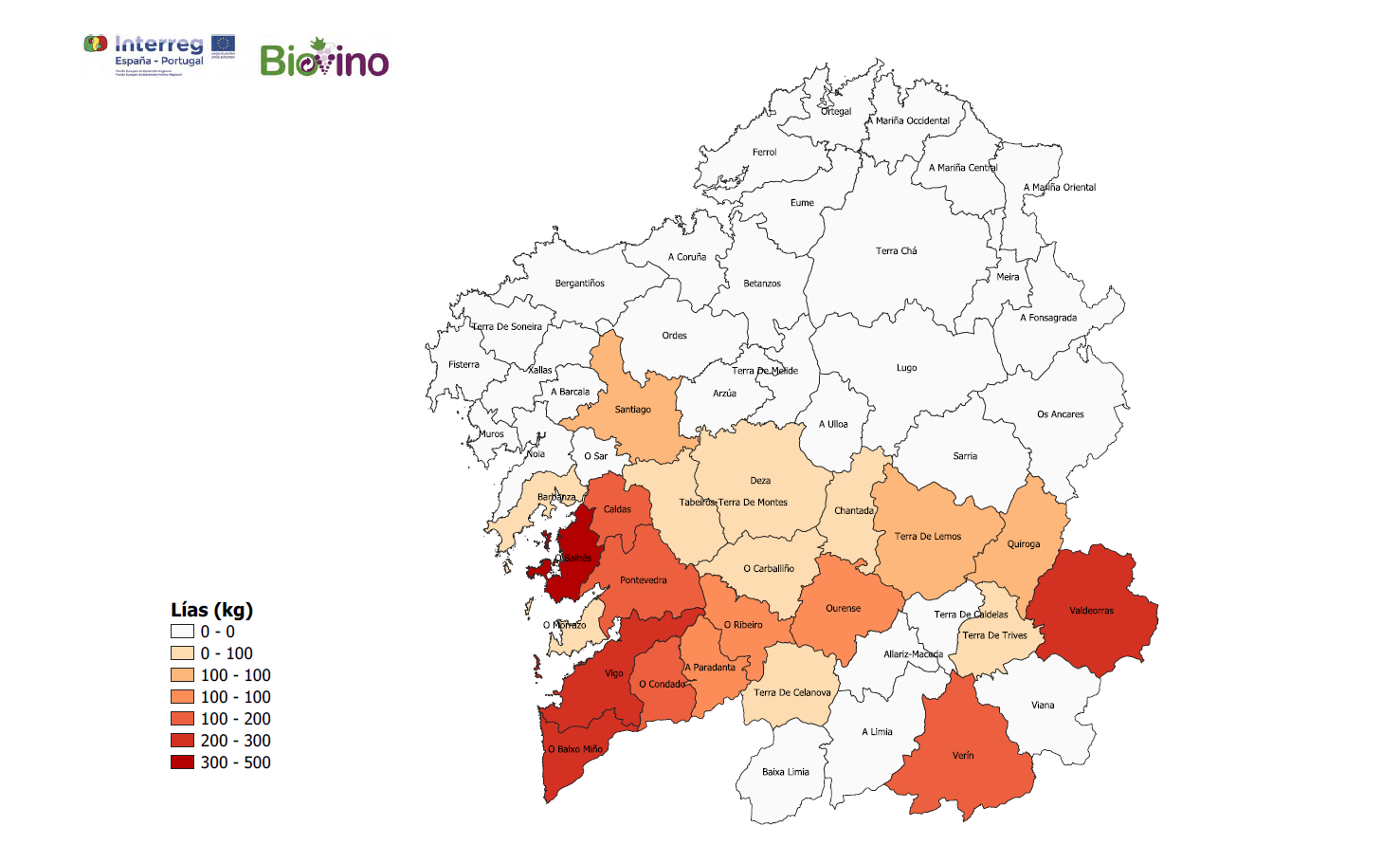 Conclusions
Winery by-products are an important resource (cellulose, hemicellulose, lignin, nitrogen, phenolic compounds, etc.), which can be interesting for chemical, food and pharmaceutical industries. The high amount of by-products generated, together with their predominant location in specific areas, makes one believe in the implementation of future biorefineries based on the transformation of these materials.
*-*-*-*-*-*-
Inventory in Galicia made by CETIM.
*-*-*-*-*-*-