PROJECT BIOVINO HAS PRODUCED MANNITOL FROM SURPLUS GRAPE MUST AND WINE LEES
What is mannitol?
Mannitol is a six-carbon polyol which is naturally present in many organisms, like bacteria, yeasts, fungi, algae, lichens and several plants. There are several techniques for mannitol production: a) chemical catalysis at high pressure and temperature from glucose-fructose mixtures, b), extraction from brown algae and ash trees and c) biological production with microorganisms.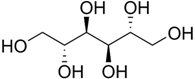 Heterofermentative lactic acid bacteria are able to transform fructose, sucrose, inulin and mixtures of fructose-glucose and fructose-sucrose into mannitol. Some typical species which are able to produce mannitol are Leuconostoc mesenteroides, Lactobacillus intermedius and Lactobacillus fermentum. In order to produce mannitol, these bacteria need a fructose-rich substrate, a source of organic nitrogen and some mineral salts. The main problem associated with this biotransformation route is the elevated cost of the fructose-rich substrates needed.
What is mannitol used for?
This polyol has numerous applications as a sweetener and stabiliser in the food industry, thanks to its low-caloric and low-cariogenic nature, and to its suitability for diabetic patients. Mannitol is also used for medical and pharmaceutical purposes.
The problem of wine surplus
Wine production worldwide attained 29,200 ML in 2018 according to the International Organisation of Vine and Wine (OIV). Spain devoted 933,107 ha to vineyard in 2020, which produced about 4,070 ML wine and 796 ML grape juice and grape must must (Spanish Ministry of Agriculture, Fisheries and Food). In 2020, Portugal devoted 192.401 ha to vineyard and produced 641 ML wine (Portuguese Institue of Vineyard and Wine, IVV). According to FAO reports, Spain ranked third and Portugal ranked thirteenth as wine producers worldwide in 2018. The European Union has tried to avoid wine surplus through legal regulations (Council Regulation (EC) No 1493/1999; Council Regulation (EC) No 479/2008), because it causes an important commercial imbalance. This surplus is mainly managed by controlled distillation, and storage for table wine and grape juice. The use of grape musts for mannitol biosynthesis could represent a business opportunity, since it woul enable the winery industry to offer a new final product (mannitol). Similarly, this could solve market problems related to wine and must surplus.
What are wine lees?
Lees are a liquid and viscous waste composed of water and materials decanted during wine fermentation. They contain an important amount of exhausted yeasts and their weight is equivalent to 1.5% of processed grape. As their total nitrogen (TN) content is about 10 g/L, they could be used as a source of organic nitrogen for various microbial processes.
Production of mannitol from grape must and wine lees
Mannitol production by lactic acid bacteria is made from pure fructose or fructose:glucose mixtures (2:1), which implies an elevated cost, due to the price of fructose. However, the utilization of sugary wastes or by-products from food industries could significantly reduce the economic costs of the process. Low-quality grape must and surplus grape must could be an interesting feedstock for mannitol biosynthesis, as mentioned above. Sugar concentrations in grape musts are in the range of 180-220 g/L, with glucose:fructose ratios about 1:1.
The project Biovino assessed the suitability of mannitol production at laboratory scale from two types of grape must: red must (variety Garnacha) and white must (variety Verdejo). It was experimentally demonstrated that the bacterium Lactobacillus intermedius only needed the addition of two nutrients to grape must: yeast extract (nitrogen source) and a manganese salt. This way, mannitol concentrations of 69 g/L with red must and 80 g/L with white must were attained in barely 48 h.
In addition, in order to further reduce process costs, yeast extract was replaced by red wine lees and white wine lees. Red wine lees offered the best results and led to mannitol productions of 59 g/L with red must and 66 g/L with white must in 144 h.

Conclusions
Mannitol concentrations obtained from both grape musts within the project Biovino are very promising, since they are greater than values attained from other agri-food by-products. Moreover, the use of wine lees as nitrogen sources for the microbial process could imply an important cost saving on reagents. Accordingly, surplus grape must and wine lees could be interesting feedstocks for mannitol production, which would allow wine cooperatives and cellars to broaden their market niche. Nevertheless, before the implementation of biorefineries applying this process, it is still necessary to improve the operational method to reach the industrial scale.
More information
Link to journal article: https://doi.org/10.1016/j.lwt.2021.112083
Link to open access repository (preprint version): https://doi.org/10.5281/zenodo.5091840