BIOGAS PRODUCTION: BIOELECTROCHEMICAL TEST
Approach
The University of León is performing a test using the technology of microbial electrolysis cells (MEC) for the degradation of vine shoot fermentation residues. The fermentation exhausted broth used in this experiment came from an ABE fermentation of pruned vine shoots. Exhausted broths are the waste remaining after removing the products (acetone, butanol and ethanol) from the fermentation broth once that the microbial process is finished.
By applying an electric current, it is possible to stimulate reactions that do not occur spontaneously. In the anode, the organic matter from the substrate suffers an oxidation reaction through electroactive microorganisms which are present in the cell, thus producing CO2, H+ and e–. Then, in the cathode, protons and electrons produce H2 and/or CH4 by means of a reduction reaction. Project Biovino aims to improve biogas production by applying MEC technology to the biodegradation process of the exhausted broth from vine shoot fermentation.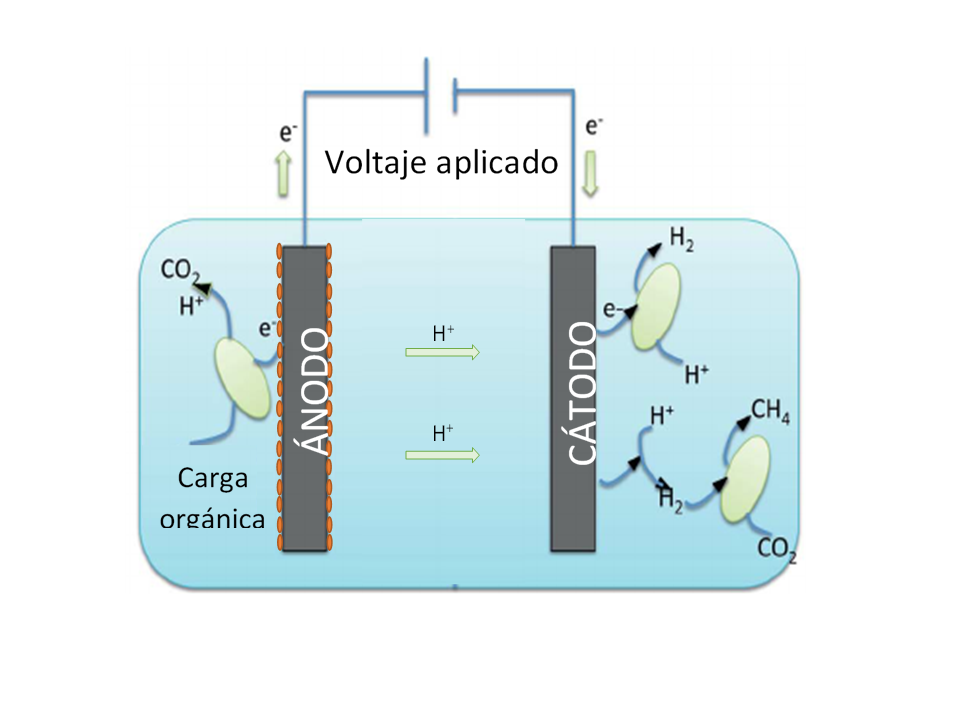 Methodology
Building of two unicameral cells, type MEC (0,5 L): a) Connected MEC (CB) with an applied voltage of 1 V; b) Nonconnected MEC (NC).
Gas storage (capacity 1L).
Anode (carbon felt) and cathode (stainless steel) of 7×3 cm.
Reactor feeding: 30% substrate and 70% synthetic medium.
Cells operated in batch with a constant temperature of 25 ± 2 °C and slight shaking.
Duration: 10 cycles (7 days per cycle).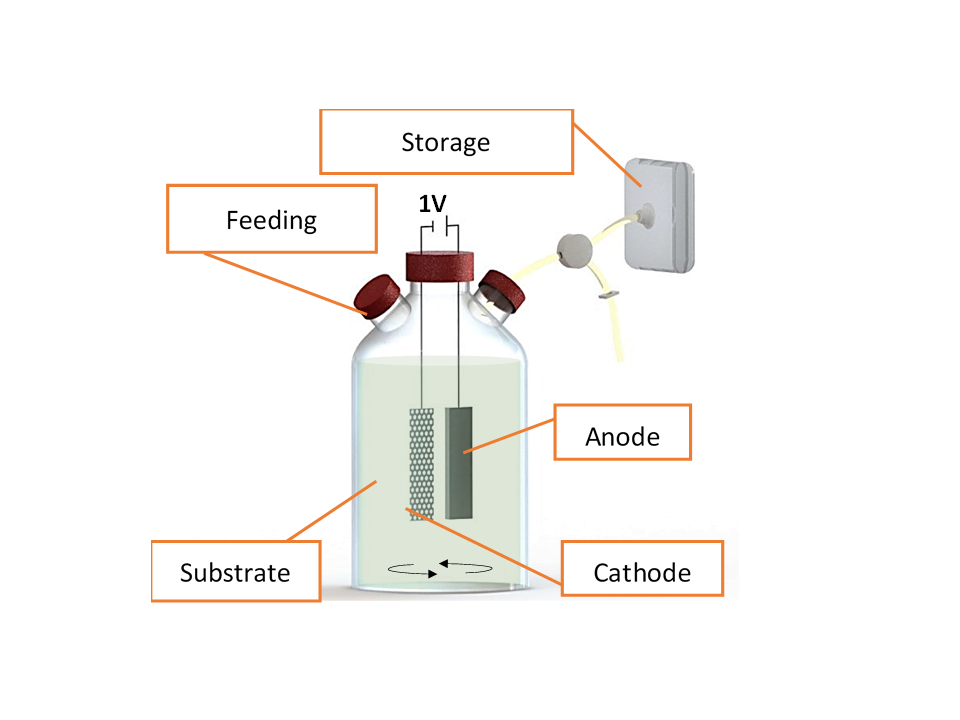 Characterisations
Electrochemical: Cyclic voltammetry (CV).
Analytic: Gas chromatography (GC); Volatile fatty acids (VFA); Total organic carbon (TOC); Dissolved oxygen; Redox potential; pH.
Microbiologic: Relative abundance; Quantitative sequencing analysis (qPCR).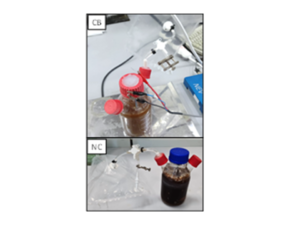 Results
It was observed that the MEC cell with an applied potential of 1 V (CB) was beneficial for biogas production, both in terms of volume produced and methane richness, during the 10 cycles tested, in comparison to the nonconnected cell (NC). The quality of the biogas produced by the CB reactor reached a purity of up to 80% in CH4. The results of these experiments confirm the possible advantages of using a MEC for the treatment of liquid organic wastes and evidences that this type of cell can be a solution for the treatment of this kind of substrates, working as an anaerobic digestion assisted by electrodes in which it is feasible to generate a biogas with a higher quality to that of the traditional anaerobic digestion.