BIOVINO PROJECT HAS PRODUCED SUCCINIC ACID FROM VINE SHOOTS AND SURPLUS GRAPE MUST
What is succinic acid?
Succinic acid is a four-carbon dicarboxylic organic acid which is present in nature in fruits, fungi, fermented beverages and amber resin. This acid can be obtained through petrochemical processes and also by using microorganisms. Some rumen bacteria, such as Actinobacillus succinogenes and Basfia succiniproducens, are able to transform several sugars into succinic acid.

What is succinic acid used for?
Succinic acid is used as a surfactant, anticorrosive agent, food acidulant, pharmaceutical ingredient and raw material in the chemical industry.
Vine shoots: a lignocellulosic winery by-product
Vine shoots are the most important winery by-product in terms of volume, since they represent 93% of the solid wastes originated by viticulture and their production is in the range of 1.4-2.0 t/ha. Spain devoted 933,107 ha to vineyard in 2020 (Spanish Ministry of Agriculture, Fisheries and Food), whereas Portugal devoted 192.401 ha (Portuguese Institue of Vineyard and Wine, IVV). Spain and Portugal rank first and tenth worldwide, respectively, in terms of surface devoted to viticulture (FAO, 2019).
Vine shoots, as lignocellulosic vegetal biomass, is mainly composed of cellulose, hemicellulose and lignin. Cellulose and lignin are polysaccharidic fibres, that is to say, they are long chains of sugar molecules. The links of these chains can be separated by a physico-chemical or enzymatic pretreatment, thus releasing the sugars that they contain (glucose, xylose, arabinose, etc.).
The problem of wine surplus
Wine production worldwide attained 29,200 ML in 2018 according to the International Organisation of Vine and Wine (OIV). In the campaign 2020, Spain produced about 4,070 ML wine and 796 ML grape juice and grape must must (Spanish Ministry of Agriculture, Fisheries and Food) and Portugal produced 641 ML wine (Portuguese Institue of Vineyard and Wine, IVV). According to FAO reports, Spain ranked third and Portugal ranked thirteenth as wine producers worldwide in 2018. The European Union has tried to avoid wine surplus through legal regulations (Council Regulation (EC) No 1493/1999; Council Regulation (EC) No 479/2008), because it causes an important commercial imbalance. This surplus is mainly managed by controlled distillation, and storage for table wine and grape juice.
What are wine lees?
Lees are a liquid and viscous waste composed of water and materials decanted during wine fermentation. Their weight is equivalent to 1.5% of processed grape and they contain an important amount of exhausted yeasts. As their total nitrogen (TN) content is about 10 g/L, they could be used as a source of organic nitrogen for various microbial processes.
Succinic acid production from vine shoots and surplus grape must
Biovino project assessed the production of succinic acid from vine shoots and grape must using two bacterial species: Actinobacillus succinogenes and Basfia succiniproducens.
Vine shoots were subjected to an acidc pretreatment and an enzymatic hydrolysis to obtain a broth with 35-40 g/L sugars. Both microorganisms produced 18-21 g/L succinic acid from this hydrolysate in 120 h, which is considered insufficient from the industrial point of view.
On the contrary, the fermentation of grape must with A. succinogenes was proved to be successful. Under optimal conditions (using yeast extract as nitrogen source for bacteria), 89 g/L succinic acid were produced in 96 h, with a sugar consumption of 97%. In addition, red wine lees and white wine lees were assessed as alternative nitrogen sources to yeast extract, but with discouraging results.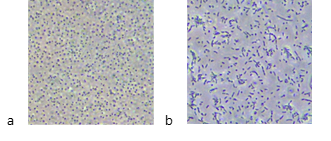 Conclusions
Vine shoots do not seem an adequate biomass for succinic acid biosynthesis. However, surplus grape must is a promising feedstock for succinic acid production by fermentation. Although current market circumstances do not allow the economic viability of succinic acid bioproduction from grape must, this situation could change in the future as a function of price evolution and available technologies.
More information
Link to journal article: https://doi.org/10.1007/s00253-022-12063-1.
Link to open access repository (preprint version): https://doi.org/10.5281/zenodo.6882486.