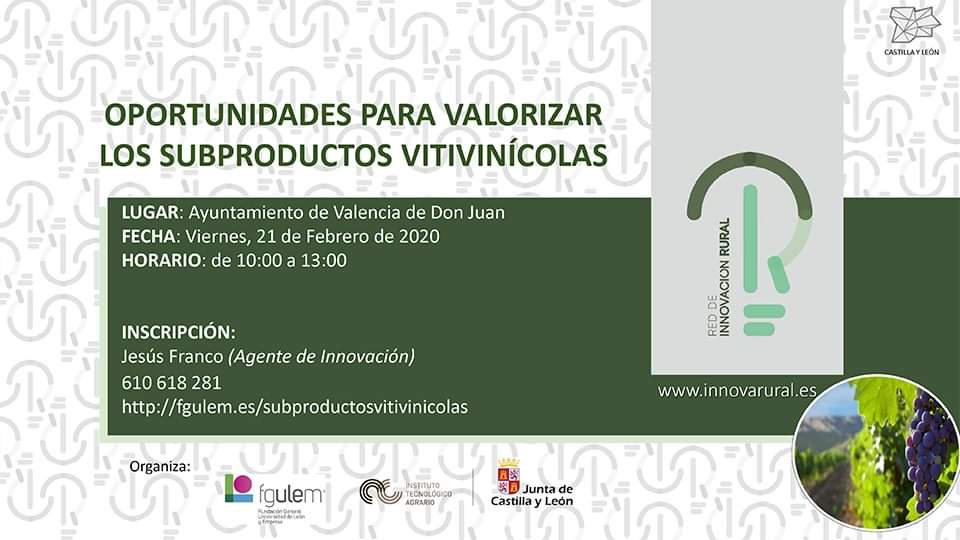 *-*-*-*-*-
ITACyL, through its Network of Rural Innovation Agents, and the FGULEM Foundation of the University of León, held a new training session in Valencia de Don Juan (Leon, Spain), on the 21st February 2020, entitled 'Opportunities to valorise winery by-products'.
Several matters were addressed during the workshop, such as the mobilisation of pruning biomass for energetic use (project MOVBIO), the environmentally sustainable use of waste biomass in integrated biorefineries to obtain biofuels and bioproducts (project BIOVINO) or the manufacture of new products rich in grape polysaccharides. Finally, a round table took place, where success stories of companies developing products derived from winery by-products were presented.
Audience: Wine-growers and winemakers; biomass companies; cosmetic companies willing to use grape seed oil or grape peels; agri-food companies using natural dyes and antioxidants; distilleries willing to broaden their production lines or shops devoted to local winery products.
*-*-*-*-*-*-